Description
Product Description
Outrun the LEGO® City crooks with this high-speed Police Car. Check out the wide rims, flared fenders and cool headlights. Just looking at this awesome automobile will stop the bad guys in their tracks! Now grab the flashlight, put on your police cap, jump aboard and head to the city for crook-catching adventures!
Product Headline
Cool police car playset
Product Oneliner
Introduce kids to the exciting world of LEGO® City with this cool toy police car playset, including a police officer minifigure with accessories.
Product Shopper
Introduce kids to a world of fun and excitement with this LEGO® City Police Car (60312) playset, featuring a sporty toy police patrol car with cool rims, wide fenders and ground-gripping tires. Just add the police officer minifigure, complete with a toy flashlight and police cap, for hours of imaginative crook-chasing action! LEGO building toy for kids aged 5 and up This set includes a step-by-step pictorial building guide and interactive digital building instructions. Available in the free LEGO Building Instructions app for smartphones and tablets, the intuitive digital guide comes with amazing zoom and rotate tools that allow kids to visualize models from all angles as they build. Welcome to a world of imagination LEGO City Police playsets put kids at the heart of the action with cool toys that shift imaginative play up a gear. Children get to explore the world through play scenarios that depict real life in a fun and exciting way.
Product Bullets
• Toy police car for kids aged 5 and up – Move creative play up a gear with this LEGO® City Police Car (60312) build-and-play set
• What's in the box? – Everything kids need to build a toy police car with room behind the wheel for the included police officer minifigure
• Building toy for imaginative play – Kids get to explore the toy Police Car as they build, before popping the police officer behind the wheel and setting out on crook-chasing adventures
• A fun anytime gift – This LEGO® City Police Car toy can be given as a birthday, holiday or any-other-day gift for kids aged 5 and up
• Play on the go – When built, the toy Police Car measures over 1.5 in. (4 cm) high, 4.5 in. (11 cm) long and 2 in. (5 cm) wide. Perfect for play, wherever kids go
• Includes LEGO® minifigure accessories – This toy police car playset comes with a toy flashlight and police cap element for the included police officer minifigure
• Guidance for younger builders – This building set includes a printed pictorial building guide and digital building instructions, available in the LEGO® Building Instructions app
• Play that's based on real life – LEGO® City playsets come with buildings, vehicles and characters that inspire imaginative role play based on real-life scenarios
• Quality assured – All LEGO® components meet stringent industry standards to ensure they are consistent, compatible and fun to build with: it's been that way since 1958
• Safety first – LEGO® components are dropped, heated, crushed, twisted and analyzed to make sure they meet strict global standards for safety
Easy-build toy police car
Move creative play into the fast lane with this cool LEGO® City Police Car.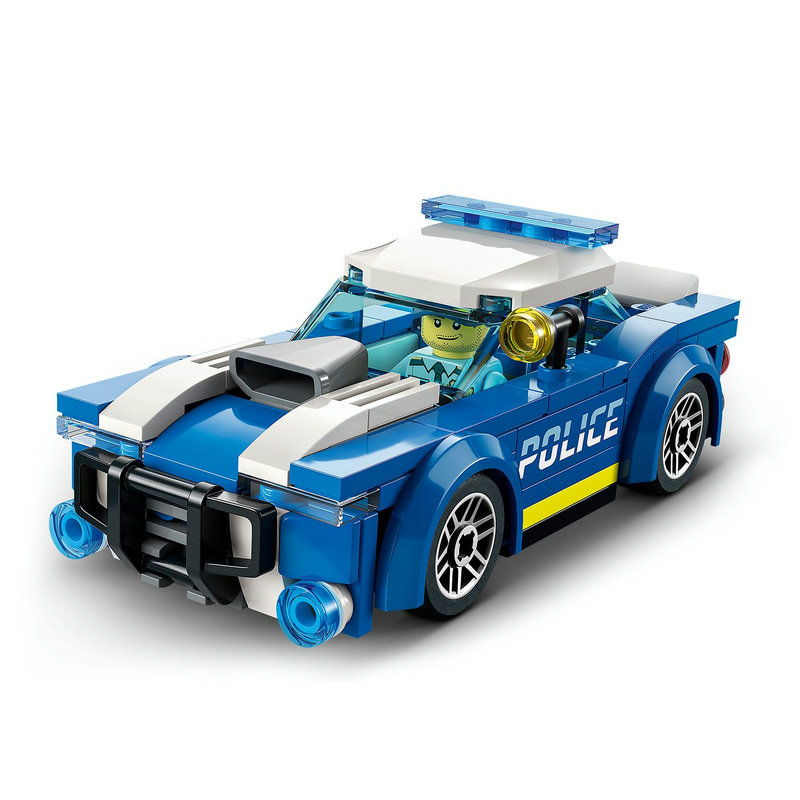 Action-packed police adventures
Introduce kids to fun crook-catching adventures in the creative world of
Order your Lego City Police Car today!  Also, check out our other Lego products!