Description
Product Description
Yikes! The hotdog vendor is in distress and his garbage can is in flames! Join the LEGO® City firefighter aboard the cool fire helicopter and head out on fun firefighting adventures. Fly to the scene and use your extinguishers to put out the flames. When the area is secure, take a well-deserved rest and enjoy a tasty snack… if you like burnt hotdogs!
Product Headline
Firefighting fun for kids aged 4+
Product Oneliner
Treat a budding hero to LEGO® City firefighting fun with this cool Fire Helicopter – a perfect playset for kids aged 4 and up who love pretend play.
Product Shopper
Introduce younger kids to the exciting world of LEGO® City with the LEGO City Fire Helicopter (60318) playset, featuring a toy helicopter with a storage compartment and spinning rotors, plus firefighter and hotdog vendor minifigures. Just add the garbage can, LEGO flames and burnt hotdog for hours of imaginative play. Printed and digital building instructions This 4+ set comes with a pictorial printed building guide and a LEGO Starter Brick element – a pre-formed base from which to start building the helicopter. In addition, kids get an interactive digital guide that enables them to zoom, rotate and visualize the finished model from all angles as they build. It's available in the free LEGO Building Instructions app for smartphones and tablets. Exploring the world through play LEGO City playsets come with feature-rich buildings, realistic vehicles and fun characters that stimulate kids' open-ended imaginative role play based on everyday heroes and real-life events.
Product Bullets
• Firefighter playset for kids aged 4+ – Introduce children to the world of LEGO® play with this LEGO City Fire Helicopter (60318) playset
• What's in the box? – Everything you need to build a toy fire helicopter, plus firefighter and vendor minifigures, a trash can with LEGO® flames and fun accessories, including a burnt hotdog
• Features and functions – The helicopter comes with spinnable rotors, a storage compartment and a minifigure cockpit
• A gift for any occasion – This LEGO® City set can be given as a birthday, holiday or any-other-day surprise for kids who love imaginative play
• A take-along toy – When built, the Fire Helicopter measures over 3.5 in. (8 cm) high, 4.5 in. (12 cm) long and 2 in. (5 cm) wide
• LEGO® accessories add to the play – Minifigure toy accessories include a hotdog, burnt hotdog, hotdog roll, walkie-talkie and a flight helmet
• Designed for younger builders – This 4+ set includes a LEGO® Starter Brick element, pictorial building guide and interactive digital instructions, available in the free LEGO Building Instructions app
• Helping kids develop life skills – LEGO® City playsets are designed to nurture physical skills and confidence through creative play
• Quality assured – All LEGO® components meet strict industry standards to ensure they are consistent, compatible and fun to build with: it's been that way since 1958
• Putting safety first – LEGO® bricks and pieces are dropped, heated, crushed, twisted and analyzed to make sure they meet stringent global standards for safety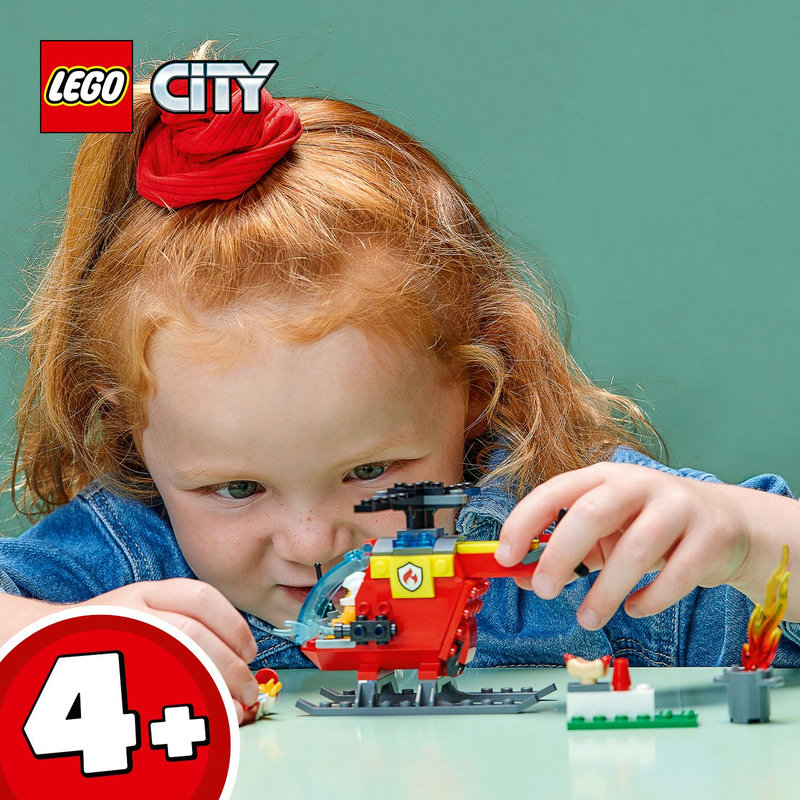 Send imaginative play skyward!
Introduce kids aged 4+ to a world of creative play with this toy fire helicopter, complete with 2 minifigures and accessories.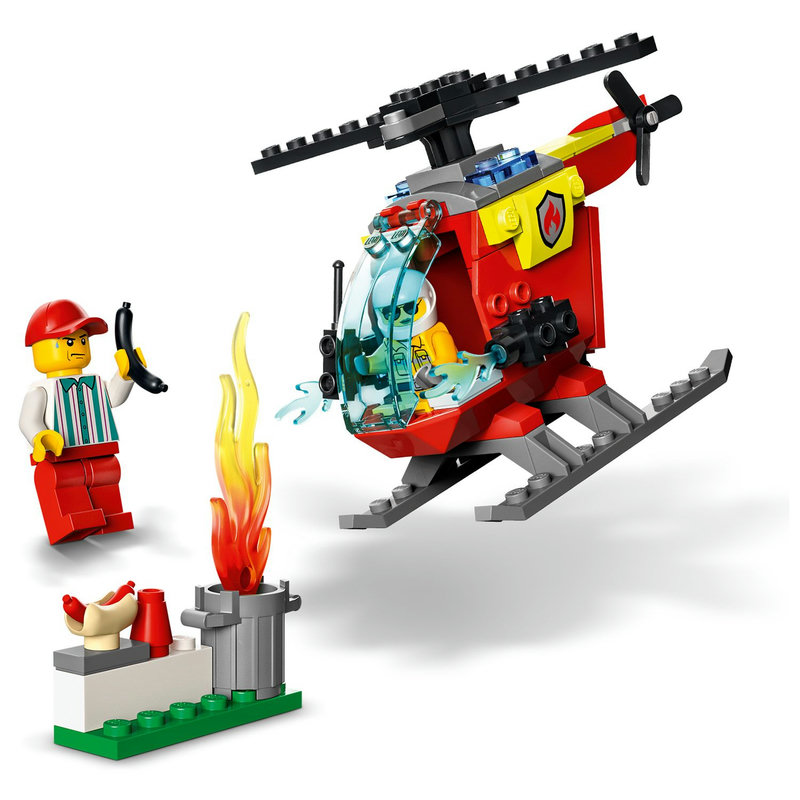 Specially designed for little LEGO® builders
Kids get a head start with modular building pieces and a pre-molded Starter Brick chassis from which to begin building.
Order your Lego City Fire Helicopter today!  Also, check out our other Lego products!